---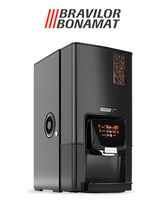 Bravilor Sego: commercial bean-to-cup machine
The Sego 12 is a fully automatic espresso machine. The Sego can be placed literally anywhere, thanks to the small format, clear and easy user interface.
Bravilor Bonamat has carefully selected, assembled and pre-programmed the most popular speciality coffees for you. So your machine will quickly be up and running.
The quality of your cup of coffee is important. That's why essential components requiring maintenance were carefully and cleverly designed in-house. Bravilor Bonamat ensures that cleaning activities are kept to a minimum and performed automatically as much as possible.
Three canisters: one for coffee beans and two for instant ingredients, such as topping and cocoa.
Simple operation thanks to the intuitive touchscreen.
The menu offers up to 30 choices of beverage.
Settings, such as water temperature, contact time, coffee grinding and cup size, can be adapted to your wishes.
The Sego is well suited to offices, waiting rooms and shops.
The energy-saving mode reduces your energy consumption when the machine is not in use.

Specifications
Beverages

Caffè crema
Americano
Café au lait
Cappuccino
Espreschoc
Espresso
Hot chocolate
Hot chocolate deluxe
Latte macchiato
Moccachino
Hot water
Ristretto

Canister contents
Water pressure
Connection
Dimensions
W x D x H


Tap height